Holiday property - Duinendaele aan zee
The nice holiday house consist of two double rooms, a bedroom with two single beds and a bathroom with shower. Furthermore there is a kitchen with all the supplies you need.
In the living area you'll find a great dining table and a comfortable Sofa. For the colder days you can use the fireplace and stay warm!
Outdoors offers a big garden with garden furniture and a barbecue area. You can use our bikes and walk through the nature reserve till the beach
For more information go to our website www.duinendaeleaanzee.be
Guest house
Holiday property
Max. 6 guests
3 bedrooms
Address: Duinhoekstraat 129
Camping/park: Duinendaele
Facilities
Baby Cot

Bicycles storage

Cancel free of charge

CD Player

Children's Chair

Contactless stay

Dishwasher

DVD Player

Freezer

Heating with stoves

Microwave

Parking provided

Pets allowed

Radio

Refrigerator

Shower

Swimming Pool

Television

Terrace with garden furniture

WiFi
Information neighborhood
Bicycles rental
Dunes and beach
Entertainment opportunities
Fishing features
Forest
Golf course
Internet opportunities
Manege
Open-air swimming pool
Playing facilities
Restaurant
Rural Area
Self-service laundry
Sports facilities
Supermarket near
Tennis Courts
Water sport possibilities
Price from
to
€ 265.00
€ 695.00
Availability & Prices
Select the start date and end date in the calendar
Free
On request
Occupied
Changeover
August 2020
| mo | tu | we | th | fr | sa | su |
| --- | --- | --- | --- | --- | --- | --- |
| | | | | | 1 | 2 |
| 3 | 4 | 5 | 6 | 7 | 8 | 9 |
| 10 | 11 | 12 | 13 | 14 | 15 | 16 |
| 17 | 18 | 19 | 20 | 21 | 22 | 23 |
| 24 | 25 | 26 | 27 | 28 | 29 | 30 |
| 31 | | | | | | |
September 2020
mo
tu
we
th
fr
sa
su
1
2
3
4
5
6
7
8
9
10
11
12
13
14
15
16
17
18
19
20
21
22
23
24
25
26
27
28
29
30
October 2020
mo
tu
we
th
fr
sa
su
1
2
3
4
5
6
7
8
9
10
11
12
13
14
15
16
17
18
19
20
21
22
23
24
25
26
27
28
29
30
31
November 2020
| mo | tu | we | th | fr | sa | su |
| --- | --- | --- | --- | --- | --- | --- |
| | | | | | | 1 |
| 2 | 3 | 4 | 5 | 6 | 7 | 8 |
| 9 | 10 | 11 | 12 | 13 | 14 | 15 |
| 16 | 17 | 18 | 19 | 20 | 21 | 22 |
| 23 | 24 | 25 | 26 | 27 | 28 | 29 |
| 30 | | | | | | |
December 2020
mo
tu
we
th
fr
sa
su
1
2
3
4
5
6
7
8
9
10
11
12
13
14
15
16
17
18
19
20
21
22
23
24
25
26
27
28
29
30
31
January 2021
mo
tu
we
th
fr
sa
su
1
2
3
4
5
6
7
8
9
10
11
12
13
14
15
16
17
18
19
20
21
22
23
24
25
26
27
28
29
30
31
February 2021
mo
tu
we
th
fr
sa
su
1
2
3
4
5
6
7
8
9
10
11
12
13
14
15
16
17
18
19
20
21
22
23
24
25
26
27
28
March 2021
mo
tu
we
th
fr
sa
su
1
2
3
4
5
6
7
8
9
10
11
12
13
14
15
16
17
18
19
20
21
22
23
24
25
26
27
28
29
30
31
April 2021
mo
tu
we
th
fr
sa
su
1
2
3
4
5
6
7
8
9
10
11
12
13
14
15
16
17
18
19
20
21
22
23
24
25
26
27
28
29
30
May 2021
| mo | tu | we | th | fr | sa | su |
| --- | --- | --- | --- | --- | --- | --- |
| | | | | | 1 | 2 |
| 3 | 4 | 5 | 6 | 7 | 8 | 9 |
| 10 | 11 | 12 | 13 | 14 | 15 | 16 |
| 17 | 18 | 19 | 20 | 21 | 22 | 23 |
| 24 | 25 | 26 | 27 | 28 | 29 | 30 |
| 31 | | | | | | |
June 2021
mo
tu
we
th
fr
sa
su
1
2
3
4
5
6
7
8
9
10
11
12
13
14
15
16
17
18
19
20
21
22
23
24
25
26
27
28
29
30
July 2021
mo
tu
we
th
fr
sa
su
1
2
3
4
5
6
7
8
9
10
11
12
13
14
15
16
17
18
19
20
21
22
23
24
25
26
27
28
29
30
31
August 2021
| mo | tu | we | th | fr | sa | su |
| --- | --- | --- | --- | --- | --- | --- |
| | | | | | | 1 |
| 2 | 3 | 4 | 5 | 6 | 7 | 8 |
| 9 | 10 | 11 | 12 | 13 | 14 | 15 |
| 16 | 17 | 18 | 19 | 20 | 21 | 22 |
| 23 | 24 | 25 | 26 | 27 | 28 | 29 |
| 30 | 31 | | | | | |
September 2021
mo
tu
we
th
fr
sa
su
1
2
3
4
5
6
7
8
9
10
11
12
13
14
15
16
17
18
19
20
21
22
23
24
25
26
27
28
29
30
Previous
Next
Is this not quite what you were looking for? Other visitors that were interested in Duinendaele aan zee also viewed:
Owner
Hiele-Denys Patrick en Martine
Member since 16 October 2017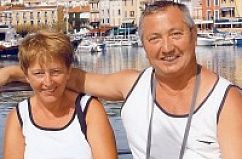 Wij zijn Patrick en Martine. Bijna zestigers met 25 jaar ervaring in vakantieverhuur.
Voor ons is het zeer belangrijk dat onze huurders een aangename vakantie in ons huisje doorbrengen en er fijne herinneringen aan bewaren. Daarom nemen wij alle gegeven suggesties ter harte en proberen de mensen zoveel mogelijk zelf te ontvangen en het huisje voor hen in orde te maken.
---
Speaks:



Quotation / Reservation
1. Select the start date of your holiday on the calendar.
2. Select the ending date of your holiday on the calendar.
3. Ask your question.