Holiday property - La Couronne
New house, located in forest area, a few minutes from Golf de Durbuy
10 people (8 + 2)
Living / dining room with large TV, DVD/Blue-ray, pellet-fireplace
Kitchen with oven, microwave, dishwasher, coffee maker, senseo machine and div. equipment
4 bedrooms with excellent beds and large TVs
3 bathrooms (3x rain shower, 1x bath)
2 separate toilets
Storage room with washing machine, tumble dryer
Generous covered terrace, BBQ, Ofyr, sauna, hottub
Private parking, incl. Charging station (16 A, 11 kW, 3 phase)
Wi-fi, board games, Netflix, Playstation
The dog is also welcome
All comfort
Year of construction 2019
All prices include consumption of water and electricity and do not include the final cleaning
Villa-Huren-Durbuy.be
For more information go to our website www.villa-huren-durbuy.be
Guest house
Holiday property
Max. 10 guests
4 bedrooms
Facilities
Baby Cot

Bad

Bicycles storage

Cancel free of charge

CD Player

Central heating

Children's Chair

Clothes dryer

Contactless stay

Dishwasher

DVD Player

Freezer

Jacuzzi

Microwave

Open fireplace

Parking provided

Pets allowed

Radio

Refrigerator

Sauna and/or Whirlpool

Separate toilet

Shower

Television

Terrace with garden furniture

Washing Machine

WiFi
Information neighborhood
Bar
Bicycles rental
Covered swimming pool
Entertainment opportunities
Fishing features
Forest
Golf course
Internet opportunities
Manege
Open-air swimming pool
Playing facilities
Restaurant
Rural Area
Sauna
Self-service laundry
Situated in the village
Sports facilities
Supermarket near
Tennis Courts
Water sport possibilities
Last-Minute
From € 995.00 for € 395.00
november / december
Price from
to
€ 295.00
€ 1100.00
Availability & Prices
Select the start date and end date in the calendar
Free
On request
Occupied
Changeover
October 2022
| mo | tu | we | th | fr | sa | su |
| --- | --- | --- | --- | --- | --- | --- |
| | | | | | 1 | 2 |
| 3 | 4 | 5 | 6 | 7 | 8 | 9 |
| 10 | 11 | 12 | 13 | 14 | 15 | 16 |
| 17 | 18 | 19 | 20 | 21 | 22 | 23 |
| 24 | 25 | 26 | 27 | 28 | 29 | 30 |
| 31 | | | | | | |
November 2022
mo
tu
we
th
fr
sa
su
1
2
3
4
5
6
7
8
9
10
11
12
13
14
15
16
17
18
19
20
21
22
23
24
25
26
27
28
29
30
December 2022
mo
tu
we
th
fr
sa
su
1
2
3
4
5
6
7
8
9
10
11
12
13
14
15
16
17
18
19
20
21
22
23
24
25
26
27
28
29
30
31
January 2023
| mo | tu | we | th | fr | sa | su |
| --- | --- | --- | --- | --- | --- | --- |
| | | | | | | 1 |
| 2 | 3 | 4 | 5 | 6 | 7 | 8 |
| 9 | 10 | 11 | 12 | 13 | 14 | 15 |
| 16 | 17 | 18 | 19 | 20 | 21 | 22 |
| 23 | 24 | 25 | 26 | 27 | 28 | 29 |
| 30 | 31 | | | | | |
February 2023
mo
tu
we
th
fr
sa
su
1
2
3
4
5
6
7
8
9
10
11
12
13
14
15
16
17
18
19
20
21
22
23
24
25
26
27
28
March 2023
mo
tu
we
th
fr
sa
su
1
2
3
4
5
6
7
8
9
10
11
12
13
14
15
16
17
18
19
20
21
22
23
24
25
26
27
28
29
30
31
April 2023
mo
tu
we
th
fr
sa
su
1
2
3
4
5
6
7
8
9
10
11
12
13
14
15
16
17
18
19
20
21
22
23
24
25
26
27
28
29
30
May 2023
mo
tu
we
th
fr
sa
su
1
2
3
4
5
6
7
8
9
10
11
12
13
14
15
16
17
18
19
20
21
22
23
24
25
26
27
28
29
30
31
June 2023
mo
tu
we
th
fr
sa
su
1
2
3
4
5
6
7
8
9
10
11
12
13
14
15
16
17
18
19
20
21
22
23
24
25
26
27
28
29
30
July 2023
| mo | tu | we | th | fr | sa | su |
| --- | --- | --- | --- | --- | --- | --- |
| | | | | | 1 | 2 |
| 3 | 4 | 5 | 6 | 7 | 8 | 9 |
| 10 | 11 | 12 | 13 | 14 | 15 | 16 |
| 17 | 18 | 19 | 20 | 21 | 22 | 23 |
| 24 | 25 | 26 | 27 | 28 | 29 | 30 |
| 31 | | | | | | |
August 2023
mo
tu
we
th
fr
sa
su
1
2
3
4
5
6
7
8
9
10
11
12
13
14
15
16
17
18
19
20
21
22
23
24
25
26
27
28
29
30
31
September 2023
mo
tu
we
th
fr
sa
su
1
2
3
4
5
6
7
8
9
10
11
12
13
14
15
16
17
18
19
20
21
22
23
24
25
26
27
28
29
30
October 2023
| mo | tu | we | th | fr | sa | su |
| --- | --- | --- | --- | --- | --- | --- |
| | | | | | | 1 |
| 2 | 3 | 4 | 5 | 6 | 7 | 8 |
| 9 | 10 | 11 | 12 | 13 | 14 | 15 |
| 16 | 17 | 18 | 19 | 20 | 21 | 22 |
| 23 | 24 | 25 | 26 | 27 | 28 | 29 |
| 30 | 31 | | | | | |
November 2023
mo
tu
we
th
fr
sa
su
1
2
3
4
5
6
7
8
9
10
11
12
13
14
15
16
17
18
19
20
21
22
23
24
25
26
27
28
29
30
Previous
Next
Our guestbook
Leave a review in our guestbook!
Go to step 2Post review
Is this not quite what you were looking for? Other visitors that were interested in La Couronne also viewed:
Owner
Luc van Alphen
Member since 6 August 2019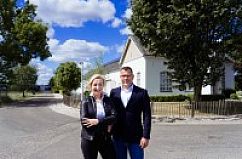 Hospitality zit in ons bloed!
Al sinds de 18e eeuw is onze familie actief in de hospitality en ontvingen wij met trots bijzondere gasten. Hotel De Kroon (La Couronne) in Breda is een voorbeeld waar wij zelfs Napoleon voor een geruime tijd een verblijf mochten aanbieden.

Naast onze meest recente activiteit met onze private bed and breakfast K&L in Tessenderlo bieden wij u via deze site de verhuur van een luxe wellness villa's in Barvaux - Durbuy aan.

De villa's zijn gelegen in het hart van de Belgische Ardennen, voorzien van luxe en wellness en biedt u alle rust in een bosrijke gebied. De vakantiehuizen liggen in de directe omgeving van de Golfbaan Five Nations in Durbuy.

Wij stellen alles in het werk om het onze gasten zo aangenaam mogelijk te maken. Dat zit in ons bloed!
---
Speaks:



Quotation / Reservation
1. Select the start date of your holiday on the calendar.
2. Select the ending date of your holiday on the calendar.
3. Ask your question.