Holiday property - Villa Dotsch
Beautiful luxury holiday villa with a large apartment and small lower apartment and private pool. The beach is at 1 km
The villa has three bedrooms, two bathrooms, two kitchens and livingrooms. In each of the livingrooms is a sofa pl˙s two sofa beds
The area is very green and quiet
Facilities
Air conditioning

Baby Cot

Bicycles storage

Children's Chair

Contactless stay

Dishwasher

Freezer

Heating with stoves

Microwave

Open fireplace

Radio

Refrigerator

Shower

Swimming Pool

Television

Terrace with garden furniture

Washing Machine

WiFi
Information neighborhood
Bar
Bicycles rental
Dunes and beach
Entertainment opportunities
Fishing features
Golf course
Internet opportunities
Open-air swimming pool
Playing facilities
Restaurant
Rural Area
Situated in the village
Sports facilities
Supermarket near
Tennis Courts
Water sport possibilities
Price from
to
€ 450.00
€ 1995.00
Availability & Prices
Free
On request
Occupied
Changeover
December 2022
mo
tu
we
th
fr
sa
su
1
2
3
4
5
6
7
8
9
10
11
12
13
14
15
16
17
18
19
20
21
22
23
24
25
26
27
28
29
30
31
January 2023
| mo | tu | we | th | fr | sa | su |
| --- | --- | --- | --- | --- | --- | --- |
| | | | | | | 1 |
| 2 | 3 | 4 | 5 | 6 | 7 | 8 |
| 9 | 10 | 11 | 12 | 13 | 14 | 15 |
| 16 | 17 | 18 | 19 | 20 | 21 | 22 |
| 23 | 24 | 25 | 26 | 27 | 28 | 29 |
| 30 | 31 | | | | | |
February 2023
mo
tu
we
th
fr
sa
su
1
2
3
4
5
6
7
8
9
10
11
12
13
14
15
16
17
18
19
20
21
22
23
24
25
26
27
28
March 2023
mo
tu
we
th
fr
sa
su
1
2
3
4
5
6
7
8
9
10
11
12
13
14
15
16
17
18
19
20
21
22
23
24
25
26
27
28
29
30
31
April 2023
mo
tu
we
th
fr
sa
su
1
2
3
4
5
6
7
8
9
10
11
12
13
14
15
16
17
18
19
20
21
22
23
24
25
26
27
28
29
30
May 2023
mo
tu
we
th
fr
sa
su
1
2
3
4
5
6
7
8
9
10
11
12
13
14
15
16
17
18
19
20
21
22
23
24
25
26
27
28
29
30
31
June 2023
mo
tu
we
th
fr
sa
su
1
2
3
4
5
6
7
8
9
10
11
12
13
14
15
16
17
18
19
20
21
22
23
24
25
26
27
28
29
30
July 2023
| mo | tu | we | th | fr | sa | su |
| --- | --- | --- | --- | --- | --- | --- |
| | | | | | 1 | 2 |
| 3 | 4 | 5 | 6 | 7 | 8 | 9 |
| 10 | 11 | 12 | 13 | 14 | 15 | 16 |
| 17 | 18 | 19 | 20 | 21 | 22 | 23 |
| 24 | 25 | 26 | 27 | 28 | 29 | 30 |
| 31 | | | | | | |
August 2023
mo
tu
we
th
fr
sa
su
1
2
3
4
5
6
7
8
9
10
11
12
13
14
15
16
17
18
19
20
21
22
23
24
25
26
27
28
29
30
31
September 2023
mo
tu
we
th
fr
sa
su
1
2
3
4
5
6
7
8
9
10
11
12
13
14
15
16
17
18
19
20
21
22
23
24
25
26
27
28
29
30
October 2023
| mo | tu | we | th | fr | sa | su |
| --- | --- | --- | --- | --- | --- | --- |
| | | | | | | 1 |
| 2 | 3 | 4 | 5 | 6 | 7 | 8 |
| 9 | 10 | 11 | 12 | 13 | 14 | 15 |
| 16 | 17 | 18 | 19 | 20 | 21 | 22 |
| 23 | 24 | 25 | 26 | 27 | 28 | 29 |
| 30 | 31 | | | | | |
November 2023
mo
tu
we
th
fr
sa
su
1
2
3
4
5
6
7
8
9
10
11
12
13
14
15
16
17
18
19
20
21
22
23
24
25
26
27
28
29
30
December 2023
mo
tu
we
th
fr
sa
su
1
2
3
4
5
6
7
8
9
10
11
12
13
14
15
16
17
18
19
20
21
22
23
24
25
26
27
28
29
30
31
January 2024
mo
tu
we
th
fr
sa
su
1
2
3
4
5
6
7
8
9
10
11
12
13
14
15
16
17
18
19
20
21
22
23
24
25
26
27
28
29
30
31
Previous
Next
Rental rates
Periode
Minimum price
Weekly
Midweek
Weekend
12 Jan 2023 - 1 Apr 2023


7 nights minimum stay




Changeover days: alle dagen

€ 750.00


for 7 nights

€ 750.00


for 7 nights

1 Apr 2023 - 13 May 2023


7 nights minimum stay




Changeover days: alle dagen

€ 950.00


for 7 nights

€ 950.00


for 7 nights

13 May 2023 - 27 May 2023


7 nights minimum stay




Changeover days: alle dagen

€ 1075.00


for 7 nights

€ 1075.00


for 7 nights

27 May 2023 - 10 Jun 2023


7 nights minimum stay




Changeover days: alle dagen

€ 1150.00


for 7 nights

€ 1150.00


for 7 nights

10 Jun 2023 - 24 Jun 2023


7 nights minimum stay




Changeover days: alle dagen

€ 1250.00


for 7 nights

€ 1250.00


for 7 nights

24 Jun 2023 - 26 Aug 2023


7 nights minimum stay




Changeover days: alle dagen

€ 1995.00


for 7 nights

€ 1995.00


for 7 nights

26 Aug 2023 - 30 Sep 2023


7 nights minimum stay




Changeover days: alle dagen

€ 1250.00


for 7 nights

€ 1250.00


for 7 nights

30 Sep 2023 - 4 Nov 2023


7 nights minimum stay




Changeover days: alle dagen

€ 995.00


for 7 nights

€ 995.00


for 7 nights

4 Nov 2023 - 16 Dec 2023


7 nights minimum stay




Changeover days: alle dagen

€ 750.00


for 7 nights

€ 750.00


for 7 nights
Additional costs
: € 0.00 Per stay
Included in price

: € 0.00 Per stay
Included in price

: € 500.00 Per stay
Pay when booking | Mandatory

: € 90.00 Per stay
Pay on the spot | Mandatory

: € 0.00 To consumption
Will be deducted from the deposit

: € 0.00 Per stay
Included in price

: € 0.00 Per stay
Included in price

: € 0.00 Per stay
Included in price

: € 0.00 Per stay
Will be deducted from the deposit

Our guestbook
Leave a review in our guestbook!
Go to step 2Post review
Is this not quite what you were looking for? Other visitors that were interested in Villa Dotsch also viewed:
Owner
Marja van der Burg
Member since 5 November 2022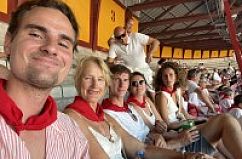 Wij zijn een groot gezin dat regelmatig probeerden het slechte hollandse weer te ontvluchten
In 2020 heeft dit geleid tot de aanschaf van deze prachtige woning aan de Costa Blanca. Wij hebben het huis gerenoveerd in 2020-2022 en Wij kunnen nu regelmatig naar Spanje; maar u bent ook van harte welkom!
---
Speaks:


Quotation / Reservation
From€ 750.00per week