Bungalow - 619
Let op! ONZE PRIJZEN ZIJN 0.A INCLUSIEF EINDSCHOONMAAK EN ZWEMBADKAARTEN.

Heerlijk vrij gelegen luxe bungalow, in grote omheinde tuin van , met privé hekje naar wandelgebied, gelegen op het vijf sterren vakantiepark de Krim op het Waddeneiland Texel. De woning heeft 3 slaapkamers, dakterras met mooi uitzicht, speelhuisje met een klein zandbakje.
Het vakantiepark de Krim heeft een super modern nieuw binnen en buitenzwembad, toegangskaarten zijn inclusief bij de huur, met o.a. 3 waterglijbanen een wildwaterbaan en speciaal voor jonge kinderen is er een indoor spraypark, geheel gethematiseerd in Texelse stijl, vernieuwd speelparadijs, een speelschip en een voetbalveld. Fantastisch klimpark, sauna, fitness ruimte, bowling, fiets- en skelterverhuur. Tevens kapsalon, overdekt midgetgolf met glow in the dark effect, springkussen en speeltuin. In de vakantieweken is er een recreatieprogramma. Op het park is een supermarktje met dagelijks vers brood en verse jus, een souvenier winkel, een bar en twee restaurants. Bij het begin van de Krim is een ruitercentrum. Vakantiepark De Krim ligt in het noorden van Texel aan een prachtige 18 holes golfbaan. U krijgt 30% reductie op de green fees als gast van de Krim. De woning ligt dichtbij de afslag naar de Slufter, zee en strand. Alle voordelen van het park en toch geheel vrij gelegen.

Prijzen zijn inclusief eindschoonmaak, toegangskaarten voor het nieuwe zwembad, energiekosten, wifi en 1 lakenpakket.

Buiten de schoolvakanties om zijn de huurprijzen van een week, weekend of midweek op aanvraag, deze wisselen nogal.


Voor meer informatie en beschikbaarheid zie de website van deze woning.
texeldecocksdorp.nl
For more information go to our website click here
Guest house
Bungalow
Max. 6 guests
3 bedrooms
Address: Roggeslootweg 619
Camping/park: Vakantiepark De Krim
Facilities
Baby Cot
Bad
Bicycles storage
CD Player
Central heating
Children's Chair
Clothes dryer
Dishwasher
DVD Player
Freezer
Heating with stoves
Microwave
Open fireplace
Parking provided
Pets allowed
Radio
Refrigerator
Separate toilet
Shower
Swimming Pool
Television
Terrace with garden furniture
Washing Machine
WiFi
Information neighborhood
Bar
Bicycles rental
Covered swimming pool
Dunes and beach
Entertainment opportunities
Fishing features
Forest
Golf course
Internet opportunities
Manege
Open-air swimming pool
Playing facilities
Restaurant
Rural Area
Safes
Sauna
Self-service laundry
Situated in the city
Situated in the village
Sports facilities
Supermarket near
Tennis Courts
Water sport possibilities
Availability & Prices
Select the start date and end date in the calendar
Free
On request
Occupied
Changeover
February 2020
mo
tu
we
th
fr
sa
su
1
2
3
4
5
6
7
8
9
10
11
12
13
14
15
16
17
18
19
20
21
22
23
24
25
26
27
28
29
March 2020
| mo | tu | we | th | fr | sa | su |
| --- | --- | --- | --- | --- | --- | --- |
| | | | | | | 1 |
| 2 | 3 | 4 | 5 | 6 | 7 | 8 |
| 9 | 10 | 11 | 12 | 13 | 14 | 15 |
| 16 | 17 | 18 | 19 | 20 | 21 | 22 |
| 23 | 24 | 25 | 26 | 27 | 28 | 29 |
| 30 | 31 | | | | | |
April 2020
mo
tu
we
th
fr
sa
su
1
2
3
4
5
6
7
8
9
10
11
12
13
14
15
16
17
18
19
20
21
22
23
24
25
26
27
28
29
30
May 2020
mo
tu
we
th
fr
sa
su
1
2
3
4
5
6
7
8
9
10
11
12
13
14
15
16
17
18
19
20
21
22
23
24
25
26
27
28
29
30
31
June 2020
mo
tu
we
th
fr
sa
su
1
2
3
4
5
6
7
8
9
10
11
12
13
14
15
16
17
18
19
20
21
22
23
24
25
26
27
28
29
30
July 2020
mo
tu
we
th
fr
sa
su
1
2
3
4
5
6
7
8
9
10
11
12
13
14
15
16
17
18
19
20
21
22
23
24
25
26
27
28
29
30
31
August 2020
| mo | tu | we | th | fr | sa | su |
| --- | --- | --- | --- | --- | --- | --- |
| | | | | | 1 | 2 |
| 3 | 4 | 5 | 6 | 7 | 8 | 9 |
| 10 | 11 | 12 | 13 | 14 | 15 | 16 |
| 17 | 18 | 19 | 20 | 21 | 22 | 23 |
| 24 | 25 | 26 | 27 | 28 | 29 | 30 |
| 31 | | | | | | |
September 2020
mo
tu
we
th
fr
sa
su
1
2
3
4
5
6
7
8
9
10
11
12
13
14
15
16
17
18
19
20
21
22
23
24
25
26
27
28
29
30
October 2020
mo
tu
we
th
fr
sa
su
1
2
3
4
5
6
7
8
9
10
11
12
13
14
15
16
17
18
19
20
21
22
23
24
25
26
27
28
29
30
31
November 2020
| mo | tu | we | th | fr | sa | su |
| --- | --- | --- | --- | --- | --- | --- |
| | | | | | | 1 |
| 2 | 3 | 4 | 5 | 6 | 7 | 8 |
| 9 | 10 | 11 | 12 | 13 | 14 | 15 |
| 16 | 17 | 18 | 19 | 20 | 21 | 22 |
| 23 | 24 | 25 | 26 | 27 | 28 | 29 |
| 30 | | | | | | |
December 2020
mo
tu
we
th
fr
sa
su
1
2
3
4
5
6
7
8
9
10
11
12
13
14
15
16
17
18
19
20
21
22
23
24
25
26
27
28
29
30
31
January 2021
mo
tu
we
th
fr
sa
su
1
2
3
4
5
6
7
8
9
10
11
12
13
14
15
16
17
18
19
20
21
22
23
24
25
26
27
28
29
30
31
February 2021
mo
tu
we
th
fr
sa
su
1
2
3
4
5
6
7
8
9
10
11
12
13
14
15
16
17
18
19
20
21
22
23
24
25
26
27
28
March 2021
mo
tu
we
th
fr
sa
su
1
2
3
4
5
6
7
8
9
10
11
12
13
14
15
16
17
18
19
20
21
22
23
24
25
26
27
28
29
30
31
Previous
Next
Owner
Jantina Slingenberg
Member since 18 October 2018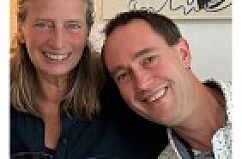 Ik ben Jantina Slingenberg, onderneemster met pensioen, moeder van twee kinderen en oma van twee kleinkinderen. Sinds 2010 ben ik eigenaresse van deze mooie bungalow en inmiddels is de woning op vele punten verbeterd en alle gasten zijn er super tevreden.
Het grootste deel van het jaar woon ik in Amsterdam, regelmatig ga ik ook naar Texel om de woning weer tip top te maken, te tuinieren en van de natuur te genieten. Enkele weken per jaar verblijf ik in mijn boerderijtje in Monpazier, Dordogne, Frankrijk, hier heb ik vroeger enkele jaren gewoond met mijn gezinnetje.

Graag ontvang ik u in mijn fijne woning op Texel.
Mocht u belangstelling hebben voor het huren van het boerderijtje in de Dordogne, dan kunt u mij ook een mail sturen.
---
Speaks:



Quotation / Reservation
1. Select the start date of your holiday on the calendar.
2. Select the ending date of your holiday on the calendar.
3. Ask your question.